JE Boxing is the only professional boxing platform in Kent, owned by 'The Moroccan Machine' – Joe Elfidh.
As a fighter, Joe was a two-weight Central Area title contender, defeated a future England champion, and shared the ring with British, Commonwealth and World champions.
As a promoter, he is single-handedly bringing big-time boxing back to The Garden of England and his hometown of Worksop.
Welcome to his weekly column – exclusive to BBN.
---
Tom Dallas v Tom Little – vacant Southern Area heavyweight title
Tom Dallas (17-6) will fight on 11th February against Tom Little for the vacant Southern Area heavyweight title on a Tommy Dove show at York Hall in Bethnal Green.
I think that Tom Little and his team have underestimated Tom Dallas because of his record over the last five years.
He's lost six of last eight fights but all against top-quality opposition whilst suffering from injuries, but that last fight of his doesn't show what he's really like. He got caught going in but was winning the fight. Tom Little and his team have underestimated him, and the thing is with Dallas is that he'll learn from his mistakes, it will be a different kettle of fish on the night because he's training harder and better than ever.
The pair met once before in the Prizefighter Heavyweights Tournament back in 2012 and Tom stopped Little in the third round.
---
Swampy's Revenge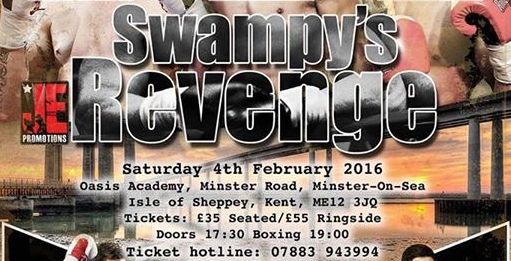 It's a six-fight card at the Oasis Academy in Sheerness. Then two weeks later, we will be in Mote Park Maidstone with another top show.
I could have done one big show for all the boys but I wanted a fair balance with tickets and didn't want a situation where I had to restrict the ticket allocations.
Unbeaten heavyweight Dave Jones (7-0), middleweight Oli Edwards (4-0), and Louis Greene (5-0) are all in action looking to extend their winning runs.
First professional boxing show ever to be held on the Isle of Sheppey!
---
New Era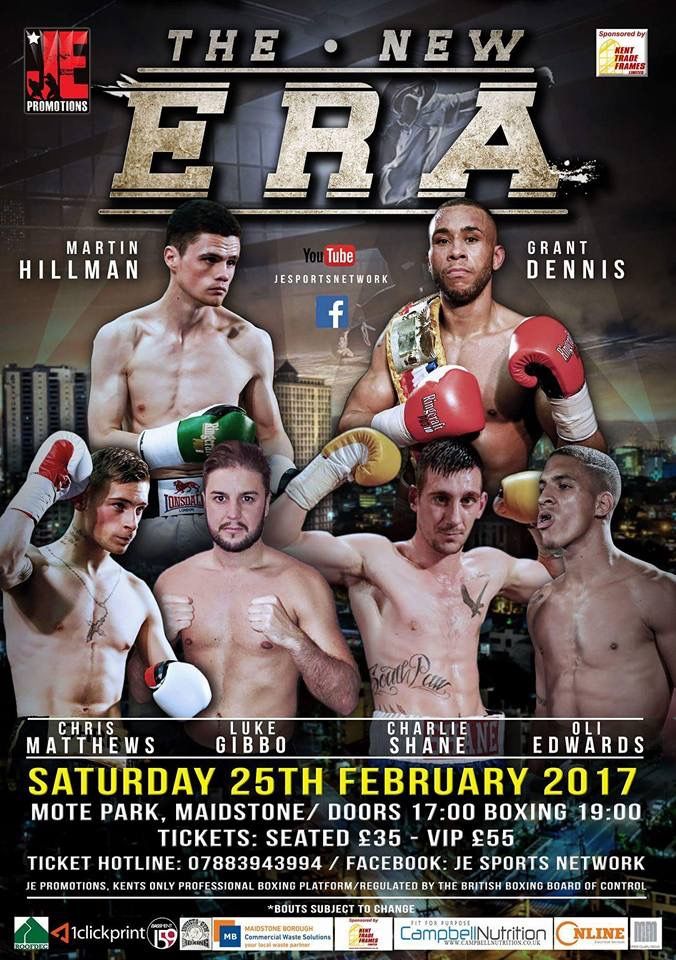 Tickets for New Era on February 25th at Mote Park, Maidstone will be here any time this week ready for purchase.
Topping the bill is Southern Area middleweight champion Grant Dennis in a six-rounder to shake the rust off before a voluntary defence of his Area title next. Grant and his team are waiting for a phone call for offers, so if anyone wants to fight him then he's available!
No one's coming forward to fight him so he'll likely do a voluntary defence of the title next. He's happy to defend the title or even take a big fight for the Commonwealth or English.
---
What has 2017 got in store for JE Promotions' boxers
South Division
I want Chris Matthews (5-0) stepping up to six-rounders this year. He's only 22-years-old, a super-featherweight from Maidstone training with Johnny Armour, improving with every fight.
---
Tom Dallas (17-6) is already above Southern Area level so if he wins his fight with Tom Little, then he would likely vacate and step up a level.
---
I plan for Oli Edwards (4-0) to be boxing for a British Challenge belt over eight-rounds this year. He's a 22-year-old unbeaten middleweight from Sheerness, stopped his last kid in the first 30 seconds of his last fight. Next out on February 4th in Sheerness.
---
Undefeated heavyweight Dave Jones (7-0) will stepping up this year and knocking on the door for a Southern Area title shot soon. Another fighter who's available for big fights this year.
---
Charlie Shane (3-0), a 25-year-old middleweight from Chatham, will be stepping up to six-rounds, maybe even eight-rounds, depending on how he goes. Next fight February 25th in Maidstone.
---
Martin Hillman (8-3) will be going back to his natural weight at featherweight and knocking on the door for the Southern Area title as soon as possible.
---
Luke Gibbo is my latest signing from Kent, he plans to be active and climbing the ladder in his first year. Debut on February 25th at Mote Park.
---
Elvis Makoda (3-1-2) from Hayes, Middlesex will be stepping up to six-rounds this year.
---
Ricky Leach (2-13-1) from Margate will be getting fights on the road again and staying safe. He always gives it his all and can snatch a win every so often.
---
Chelmsford super-featherweight Tom McGinley (2-1) will be looking at stepping up to six-rounders.
---
North Division
Andy White (2-1) is a handful for anybody and is probably one of the best Yorkshire fighters I've got. He's got a lot of potential and will be knocking on the door for the Central Area title before you know it.
---
Richard Thomas (4-1) could be fighting Daniel Slaney over eight-rounds at light-heavyweight early this year, probably on a Stefy Bull show in Doncaster. Both boxers will be in six-rounders before that fight can happen first.
---
Darren Snow (4-8-1), he's a road warrior – the perfect journeyman. He's also a ticket seller so fights at home as well. I want him to be safe this year, to take safe fights on the road and fingers crossed, he'll do well in 2017.
Working with my away fighters Darren Snow and Ricky Leach, they are the best lads I've got to work with; they do everything I tell them to, they know the crack and are so professional to work with.
---
Chris Reyes, a debutant, I think is going to be fast-tracked because he's a handful. He's ex-army, Filipino, and just so good.
---
Kyle Fox, a Yorkshire champion who trains hard and lives the life will be out this year and looking to build up the wins.
---
Plans for Nathan Thomas (1-1) is just to stay active. Only had two fights so needs to build up and keep busy.
---
Connor Tongue (1-0), 24-year-old lightweight from Dinnington, will be looking to stay busy and build up the record this year.
---
JE Promotions' plans for the year is to simply sign more top amateurs from Yorkshire and Kent.
I would love to put on a pro-am show with top schoolboy kids from gyms like St. Mary's, Rumbles Academy and Medway Boxing Academy. It would be good to get the top amateur boys on the show under the big lights, sharing the limelight with Southern Area champions and feeling what it's like to be a pro
---
For tickets to the next show, visit https://www.facebook.com/JEsportsnetwork/ or call 07883 943994
JE Promotions would like to thank Kent Trade Frames - Campbell Nutrition - Invicta Gym - Fighting Fit Gym - Roofdec - 1ClickPrint and PR Manager Tim Rickson