JE Boxing is the only professional boxing platform in Kent, owned by Joe 'The Moroccan Machine' Elfidh.
As a fighter, Joe was a two-weight Central Area title contender, defeated a future England champion, and shared the ring with British, Commonwealth and World champions.
As a promoter, he is single-handedly bringing big-time boxing back to The Garden of England and his hometown of Worksop.
Welcome to his weekly column – exclusive to BBN.
---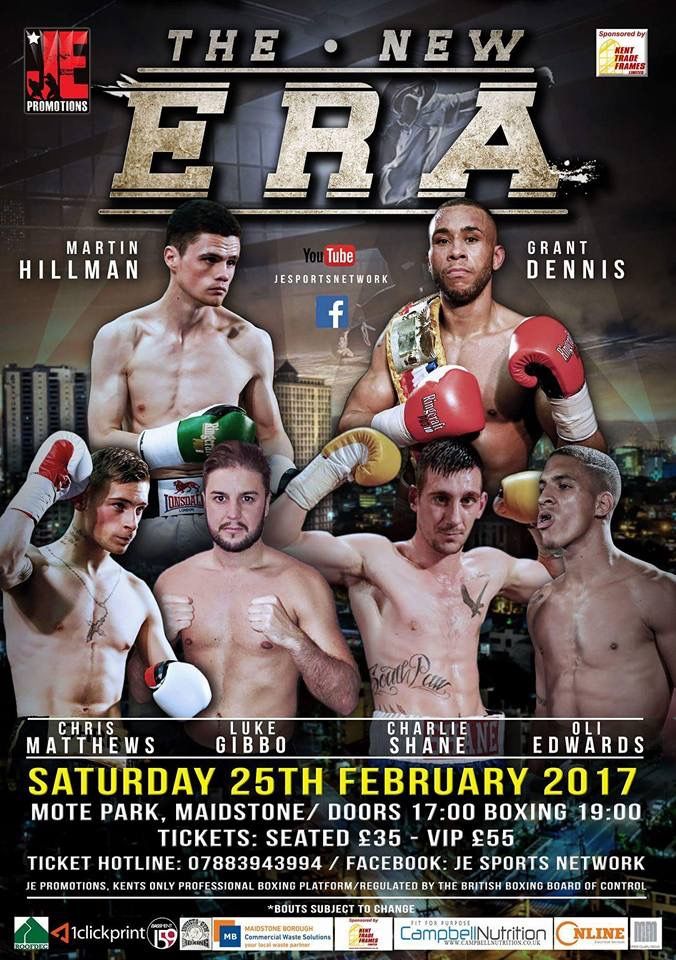 The New Era – Guaranteed sell-out!
This show is a guaranteed sell out already! I haven't got one ticket left on me and all the lads are saying they will sell it out, no problem.
I knew that it would be good, it's one of the reasons why I put on two shows in Kent in the same month.
Topping the bill is Southern Area middleweight champion Grant Dennis (7-0) in a six-rounder to shake the rust off before a voluntary defence of his Area title next.
Debutant Ronnie Bullen from Essex has just signed with Victor Smith, who asked me to add him to the show. They know how good the shows are so wanted to get on it as well. Ronnie has loads of fights available to view on YouTube from the IBA Essex shows.
The New Era is on Saturday 25th February at Mote Park in Maidstone. Tickets are available from any of the fighters.
---
High Stakes
Tickets are out now for the next show at North Notts Arena in Worksop on March 25th.
High Stakes will feature Darren Snow, Richard Thomas, Daniel Slaney, and debutants Chris Reyes and Kyle Fox.
I should have a big signing coming soon but more will revealed next week, so watch this space.
---
Tom Dallas is firing on all cylinders
Tom is training hard for this fight, he's really up for this one!
Speaking to his trainer Ray Askew and he's excited because Tom is firing on all cylinders and he'll give it what for in this fight with Tom Little; it'll be a cracking fight.
It'll be a great heavyweight showdown on February 11th against Tom Little on a Tommy Dove show at York Hall in Bethnal Green.
Invicta Gym is thriving at the moment with heavyweights Tom Dallas and Dave Jones, plus Luke Gibbo and Oli Edwards.
---
Swampy's Revenge postponed for now...
Headliner Dave Jones broke his rib in training and Louis Greene has just had a new baby and struggled to maintain his weight and commit to his training regime.
It's not cancelled, just postponed until around March or April time. I want to rearrange the show there as soon as possible because I promised Dave Jones and Oli Edwards I would put a show on in their area.
---
Frampton v Santa Cruz
Carl's a top kid and fair play to him for taking the fight again. The first one was a cracking fight and they are both top kids.
I think Santa Cruz will be different boxer from last time and I think he underestimated Frampton in the last fight; sometimes when you're favourite you can switch off a bit.
Best luck to both fighters, hope Carl does the business but I think Santa Cruz might nick this one.
---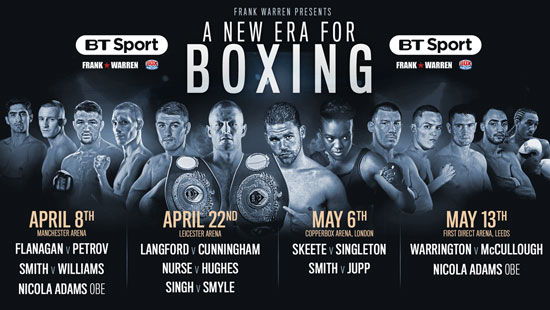 Tyrone Nurse v Joe Hughes
Congratulations to Joe at getting the British title shot against the champion Tyrone Nurse. Frank Warren announced it at his press conference this week for April 22nd in Leicester. I fought both these lads in my professional career.
I thought I could get the beating of Tyrone in our fight but my shoulder popped out in the second round. I put it on him in the opener and then went a bit wild in the second and dislocated my right shoulder. I tried to carry on and the ref asked me if I could continue and I told him I had put my shoulder out. I tried throwing with just my left but Ray in my corner rightfully threw the towel in.
Hughes is so strong, but in our fight I was so hungry to win and to stay undefeated. World champion Scott Harrison, British champion Curtis Woodhouse, all the good fighters I boxed and I can safely say that Hughes was the hardest hitter of them all. I felt like I been hit by a bus the next day! I trained harder than ever for that fight, and because I had two years out, they underestimated me.
The fight between Nurse and Hughes is going to be close but I think Hughes will win that one.
---
For tickets to the next show, visit https://www.facebook.com/JEsportsnetwork/ or call 07883 943994
JE Promotions would like to thank Kent Trade Frames - Campbell Nutrition - Invicta Gym - Fighting Fit Gym - Roofdec - 1ClickPrint and PR Manager Tim Rickson